Payment Books
For regularly scheduled payments, choose our payment books for maximum convenience and cost effectiveness. Coupon books are customized and offered in variety of designs.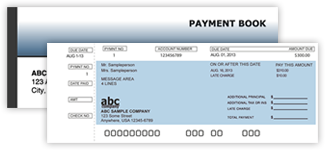 This product can be used for payment purposes for Banking Institutions, Credit Unions, Mortgage Companies, HOA, Condo & Apartment Management, Savings and Loans Companies, Schools Student Loans, Finance Companies, Healthcare Organizations and Leasing Companies.
Payment Book Features
Easy to use payment slips with circle amounts.
Payment slips can be automated by adding MICR or OCR scan lines.
Your logo on every payment slip and cover.
Easy peel remittance mailing labels included.
Standard and customized designs.
Courtesy reply envelopes supplied by request.
Optional multiple marketing inserts by request.
Helping your financial institutions, our Mortgage Loan payment books are Regulation Z compliant upon request.
Specialty Coupon Books
Promote your institution's products and services with FREE custom messages for payment books! CPS is committed to making loan payment books simple with our state-of-the-art ordering system and impeccable service.